Friday, July 10, 2020
Thursday Bible Class - July 9 - How Should We Then Vote?
Divine Institution #1: Personal Responsibility – Part 2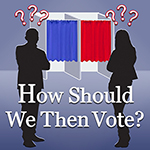 Why is life so hard and such a struggle? Listen to this lesson to learn that these problems are a result of the Fall. See a list of the consequences of sin and how the first Divine Institution of Personal Responsibility requires hard work even in the face of discomfort, disappointment, and disillusionment. Understand that no matter what we are going through, we are to understand that God is in control and He gives us the resources to handle whatever comes our way.
Click here to listen to or view this Bible class.
Wednesday, August 14, 2019
Creation Studies
New Sessions Added
For an excellent overview of topics related to Creation, check out the new series from the Pastors' Study group called Creation Studies. Featured speakers include Dr. John Baumgardner, Charles Clough, Dr. Russell Humphreys, and Dr. Timothy Clarey.
Dr. Dean also recommends that you view a YouTube video by Genesis Apologetics entitled Noah's Flood and Catastrophic Plate Tectonics (from Pangea to Today) prior to watching Dr. Baumgarnder's and Dr. Clarey's presentations.
Thursday, March 14, 2019
2019 Chafer Conference Materials
Did You Miss Some of the Chafer Conference Sessions?
Or, Do You Want to Review Them Again?
All of the presentations, video, and audio from the March 11–12 Chafer Conference are available for immediate access.
Don't forget to pass along this information to your friends who need to be aware of this enlightening information.