Wednesday, May 06, 2020
Tuesday Bible Class - May 5 - 1st & 2nd Samuel
The Self Destruction of Arrogance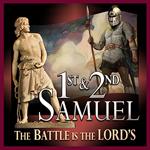 When a person or culture reject God's truth, where do they turn for their values? Listen to this lesson to learn about mankind's sin nature that results in arrogance without the truth of God's Word. Find out about six arrogance skills that lead to a downward spiral of destruction. Hear about Shimei's disrespectful, arrogant confrontation with David and how David responded in humility. Be on the alert for the deception of your own sin nature that must be countered by studying God's Word.
Click here to listen to or view this Bible class.
Wednesday, August 14, 2019
Creation Studies
New Sessions Added
For an excellent overview of topics related to Creation, check out the new series from the Pastors' Study group called Creation Studies. Featured speakers include Dr. John Baumgardner, Charles Clough, Dr. Russell Humphreys, and Dr. Timothy Clarey.
Dr. Dean also recommends that you view a YouTube video by Genesis Apologetics entitled Noah's Flood and Catastrophic Plate Tectonics (from Pangea to Today) prior to watching Dr. Baumgarnder's and Dr. Clarey's presentations.
Thursday, March 14, 2019
2019 Chafer Conference Materials
Did You Miss Some of the Chafer Conference Sessions?
Or, Do You Want to Review Them Again?
All of the presentations, video, and audio from the March 11–12 Chafer Conference are available for immediate access.
Don't forget to pass along this information to your friends who need to be aware of this enlightening information.